Main Page
From SpaceElevatorWiki.com
Jump to navigation
Jump to search
The Space Elevator Development Wiki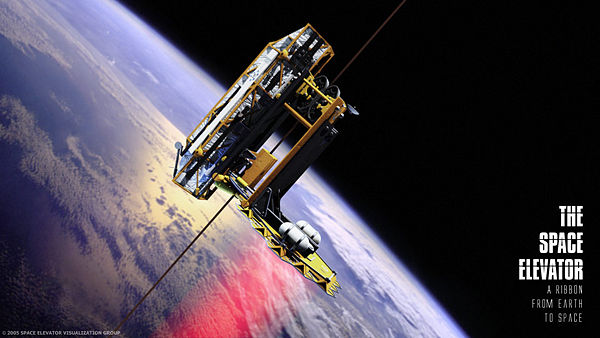 Mission
This wiki is intended to be a repository of information and a baseline for research of the space elevator. More about this WIki and the effort
Goals
Provide accurate information on the construction of a viable space elevator
Be the source of technical information during the initial stages of construction
New Work Completed
7/24/2008: Some mail servers are very picky about the from address and are silently throwing away messages from the wiki. For now, you don't need to confirm your e-mail address to make changes.
7/20/2008: Added support for embedding Google spreadsheets.
7/15/2008: Issue tracker was added!
7/13/2008: Domain was registered!
News archive.

Wiki Index
Simulation software:

resource code for conducting simulations of elevator components and interactions
current understanding of relationships will be incorporate

Scenarios
Collaboration
Spreadsheets
Collada
Blender
Physics Models
Finite Element Analysis
K3D
Other Software
Development Leads:

Individuals and what they are working on

Brad Edwards
Keith Curtis
Ben Shelef
Meta
Archive of uploaded files that need categorization: Special:Imagelist